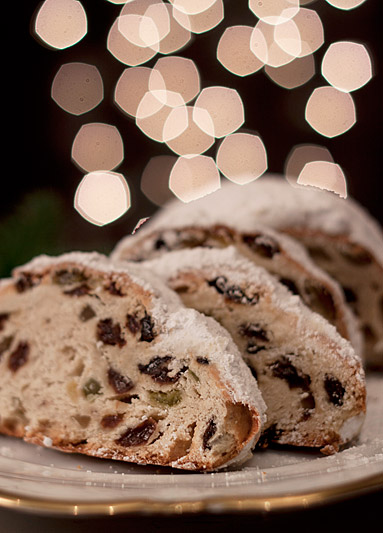 Stollen is a long family tradition of ours from when my grandmother made it for years. After a long search I finally found yours which tastes the closest to hers our family has found. It's delicious. Merry Christmas!
~ Glenn, Connecticut
My grandmother, native in Dresden, used to prepare just the same Stollen that you bake; that was more than 60 years ago in Germany. Your Stollen is amazing; delicious!
~ Viktor, California
We received your wonderful 5-pound Stollen and are sharing it with family and friends. We are so much enjoying its aromatic, pure taste: it makes us all want more! Thank you for your services! Please keep reminding us of your Stollen next year.
~ Bara, Arizona
Hurray! Going on 72 years of having stollen in my life from the Maron family... Without stollen there is no Christmas.
~ Beatrice, Vermont
When I was a child in Germany, I loved their Christmas traditions! The stollen you baked arrived today and transported me back to those childhood days. My husband is now hooked on Dresden Stollen as well. We plan to purchase from you every year! Thanks!
~ Janet, Alaska
This was our first stollen order from you and I am very happy to say that it most definitely won't be the last! We were so very pleased with the stollen...it surpassed all other stollen we've ever tasted! Thank you for so much for adding to our holiday enjoyment! Looking forward to next Christmas and more of your delicious stollen!
~ Jennifer, Michigan
I can't tell you how much a part of Christmas you have become for my family. Thanks and Regards.
~ Richard, New York
We love your Dresdener Stollen. Reminds of our home in Weisbaden. Thank you for keeping up the tradition!
~ Melissa, Florida
What was I thinking? This year, I ordered a stollen from a local German baker. No way did it compare to Dresden Stollen Bakers' stollens. The texture and taste of your stollens are far superior. I have now ordered one of yours and have learned my lesson: order from Dresden Stollen Bakers to get the best taste and quality!
~ Cynthia, Alabama
Found your website & ordered for the first time this year for myself & my 86 year old German mother. We loved it! Got the 4-pound stollen & wanted more, but unfortunately it was too late! We have tried many others, but this is identical to the stollen of mom's childhood. We will savor the remaining stollen over coffee as mom shares her childhood memories of Christmas and Germany.
~ Sylmar, California
I just opened my first box of your stollen -- IT IS WONDERFUL!!!! I am German and I grew up with the original German Dresden Stollen and it was a family tradition for my whole life (I am 59). My grandparents even had it shipped when they came to live in America every Christmas and Easter holidays. Glad I found you online and I will be reordering.
~ Ingrid, North Carolina
I ordered two stollen, one for my family and one for my brother and his family. I just had my first piece of ours ... and it is FABULOUS!! This will become a Christmas tradition for our family!
~ Karen, California
Your Stollen are the BEST!!
~ Robert, Florida
Just wanted to thank you for an amazingly good stollen. It's by far the best I've had since my German grandmother died. Wonderful!
~ Fred, Minnesota
Thank you so much for making such wonderful Stollen! All the flavors were in perfect harmony. Your stollen reminds me of the one my maternal grandfather used to make, he was a German baker and each year I looked forward to his holiday treats and stollen was right at the top of the list. You'll be sure to get my order for next year. Merry Christmas and Happy New Year!
~ Timothy, New York
We wish to express our gratitude for the Stollen we received this holiday. Having missed the order deadline last year, we made certain that we wouldn't this year. Receiving and unpacking the Stollen was exciting for us and enjoying it we could only think of one thing, magnificent. We feel many words cannot do justice to your masterful baking and we simply wish to thank you from our family.
~ Edward, British Columbia
I ordered your Stollen to share with my Mom, who loved exquisite breads. Sadly before Thankgiving my Mom passed away, and she never had the chance to taste your wonderful bread! She would have loved it! We have German heritage on both sides of my family, as well as my husband's side, which made us appreciate your family's love for the history behind your stollens. That love for your family history has obviously been translated into your Stollens! We loved your bread, & even my husband, who usually doesn't care for stollen raved about your bread! It was such a delicious treat! It's the best I've ever had!!!
~ Shawn, Washington
I just wanted to tell you all thanks for the stollen!! It reminded me of my childhood when my mother would make it. My grandmother immigrated to this country from Dresden, so it had many warm memories and thoughts for me. It was truly wonderful and I look forward to having some every year at Christmas.
~ Wendy, New Mexico
I thoroughly enjoyed the stollen I received as a gift. I've passed your name along to a friend in the office who was looking for an authentic stollen to purchase. Thanks for a very delicious product!
~ Laurie, New York
THANK YOU VERY MUCH!!!!! Your Stollen is the best in the world. Have a great holiday season and I will be ordering once again next year.
~ Janice, Florida
I tasted your stollen... It's the best I ever had... Do you have any more to ship out?
~ James, New York
This is truly the best stollen I have ever eaten. Yummy!!! I am giving stollen to each family at our celebration on Christmas Eve. I know they will agree how special this is. Have a Merry Christmas.
~ Mary, Pennsylvania
Just a note to thank you for providing such delicious Dresden Stollen. We have shared with all of our family & friends over Christmas and they agree, yours is the best stollen! Best regards for a Healthy, Happy New Year.
~ Lynn and Ed, New Jersey
I love this bread so so much -- getting it only once a year is killing me! LOL
~ John, California
The best stollen from coast to coast!
~ Margaret, New York
It was better than any we recall during the four years we lived in Germany.
~ Ron & Margaret, Louisiana
I have been ordering this wonderful Dresden Stollen for 20 years... it is the best. Everyone loves this gift, and I'm afraid I love it too. Order and enjoy!
~ Jill, California
Thanks for offering these fabulous stollens again this year. I have given them as gifts to my family and now your stollens are the thing everyone requests when the holiday season comes along. My parents were born in Germany and stollen has been a big part of every Christmas I can remember. My Grandfather was a cake maker in Germany and when I was young he made all the stollens for us each Christmas. After he passed away years ago my parents would order stollen from Germany, good but not "Grandpa's". I gave them one of your stollens for Christmas two years ago and they agreed your stollen was as close to Grandpa's as we had ever eaten and it's the most looked forward to part of our holiday when your reminder comes in the mail that it's time to order these again! I do think that we could not have "Christmas" if we did not have a Dresden Stollen!
~ Joan, California
We used to bake and send our own stollen to relatives, but had to give it up due to my wife's illness. Our son sent us one of your stollen as a gift, and my wife and I both agree yours is the best we've ever eaten!
~ Crane, California
Our family stollen arrived today, conveniently when my brother was here. So we did that yearly tasting along with my German housemate. It got 3 thumbs up - excellent!
~ Karin, Massachusetts
Sending a heartfelt Thank You to Dresden Stollen Bakers for making my folks' Christmas! Dad was unable to create his stollen this year and they were quite impressed with yours. As my Papa said, "DANKE, DANKE, DANKE"!
~ Karen, Washington
Thank you for all the hard work and love that goes into each loaf!
~ Gigi, Virginia
The stollen were perfect (delicious, and on time), as usual! Thank you.
~ Cynthia, New York
My family just loves it. We're addicted to it. I was delighted to discover that I could order from you. I really thought that it was made in Germany!
~ Sylvia, Connecticut
I want to let you know that the stollen got here in very good shape. As always, it is delicious!
~ Helga and Ernest, California
Your Stollen makes for an original and EVER so fall-off-your-chair DELICIOUS dessert/breakfast. My folks and family in Italy LOVE it. Thanks!!
~ Sabrina, Washington
The stollen you sent at my mother's request was so outstandingly good this year, that I felt compelled to write you this note. Thank you for continuing such a superior job.
~ Gisela, California
I ordered one from you several years ago for my father. He would always talk about his mother making Stollen every year for the holidays - she was from Germany - and how much he missed it. He enjoyed your Stollen so much and shared it with his brother. I was so happy I ordered that from you, it was his last Christmas.
~ Julie, Wisconsin
I order stollen from Dresden Stollen Bakers every year for my grandmother, who was born and raised in Germany. She has always raved about how good the stollen tastes. This year, a week before her scheduled delivery, we found out that my grandmother would have to have open heart surgery and would be in the hospital on the day I had scheduled for the stollen to be delivered. You all were so helpful and worked with me to get the delivery date changed. You guys are truly amazing!
~ Angela, North Carolina
Received your delicious and so very close to the old Germany stollen and would like to order for others.
~ I. T., Illinois
Just wanted you to know our stollen was excellent! And we have received similar comments from those family and friends to whom we sent them. You have mastered the art of producing this Christmas treat and we look forward to sending it to many others next year!
~ Nancy, Connecticut
This was our first year ordering your stollen. I ordered a smaller one to give as a gift and a larger one for my husband for Christmas. The smaller one never made it to the person it was intended for as once my husband tasted his he refused to let the second one get away claiming it was the best stollen he had ever had! Needless to say we will be ordering a bigger one for my husband next Christmas and several more to give as gifts! Growing up in a German household stollen was always a big part of our holiday celebrations. We always had stollen shipped from Germany but after tasting yours we all agreed yours was simply the best ever! Many thanks to all of you for a wonderful product!
~ Joan, Alabama
We received the stollen today. Already one is gone. I must tell you that we all thought it was excellent. Even our colleagues from Germany thought it was wonderful. Thank you and Happy Holidays!!
~ Arleen, Michigan
Your stollen were wonderful!!! Thank you!
~ Konny, California
The stollen was given to me and was absolutely the best! Thank you.
~ Mary, Maryland
The stollen was delicious this year! Thank you for responding to my last minute request.
~ Monica, Pennsylvania
The stollen is delicious. Thank you.
~ Jovita, California
The stollen is, as always, delicious!!! I think my mother has enough to last her for months! Thanks again.
~ Ty, California
We have had rave reviews from all to whom we gave stollen - and we think it only gets better each year!
~ Nancy, Massachusetts
What would Christmas be without Dresden Stollen. I am always looking forward to this wonderful Dresden tradition.
~ Walter, Vermont
This stuff is to die for. I know my uncles will love it too. Thank you very much.
~ Merilyn, Texas
The stollen was absolutely delicious; we ate it to the last crumb. We also served it to guests who are equally interested in knowing how to order it for next Christmas. Not only is it good to eat, it comes beautifully packaged.
~ Claudia, Washington
My boss received this as a gift and bought it in the office and Oh My it is delicious. I especially love it since it has Jamaican Rum in it and I am from Jamaica. Great job!!! I will definitely order my own going forward...
~ Juddith, North Carolina
I just recommended your stollen to someone. I said it was so fresh and delicious... Happy Holidays and Aloha From Hawaii!!
~ T.S., Hawaii
Thanks for making such great stollen! My parents love it, and so do I. Merry Christmas!
~ Tyler, South Carolina
I can't believe we have never had your stollen before. It was so delicious. I am having a hard time saving some for others in the family. I will get 5 pound next year!
~ Jolene, California
I just returned from my German friends house where we enjoyed your stollen immensely! My German friend said she had never had such a good stollen. I think this is the best one I have ever tasted also. Merry Christmas!
~ Julia, Colorado
This is the best stollen we have found in this country. We will definitely order again. Thank you for a very good product.
~ Clayton, Pennsylvania
Would you like to share your thoughts on our stollen?
Simply fill out this form to submit your own testimonial
.