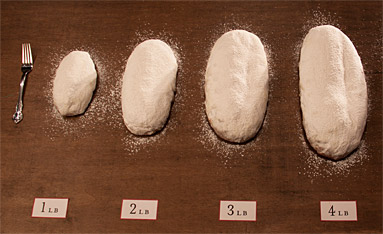 We offer four sizes of stollen -
click for larger image
We have four sizes of stollen available to meet the needs of our customers. Which size is right for you? We offer some basic descriptions of each size to help you decide.
One Pound Stollen - $26.00
Our one pound stollen makes a great hostess gift or is a nice size for an individual or couple.
Box Size:
9" x 5 1/2" x 3"
Number of Slices:
8 - 10
*
Two Pound Stollen - $39.00
Our two pound stollen works well for an individual who really enjoys stollen, a couple, or a small family.
Box Size:
12" x 6" x 3"
Number of Slices:
14 - 16
*
Three Pound Stollen - $52.00
Our three pound stollen is our best seller as its a good size for a four-person (or bigger) family and works well as a corporate gift.
Box Size:
14" x 7" x 3"
Number of Slices:
20 - 22
*
Four Pound Stollen - $75.00
Our four pound stollen is great for an extended family gathering, for those families that like to eat stollen for the entire holiday season, or for larger businesses.
Box Size:
16" x 10" x 6"
Number of Slices:
26 - 30
*
*
Rather than try to estimate the number of servings for each of our sizes, we have provided the approximate number of slices in each loaf. Our stollen is very rich and while some people may only eat one slice in a sitting, others may eat more.
Also, keep in mind that the slices of the larger loaves will be significantly wider and taller than those of the smaller loaves.
Are you ready to order?
If you've found the right size for you, click here >>
.