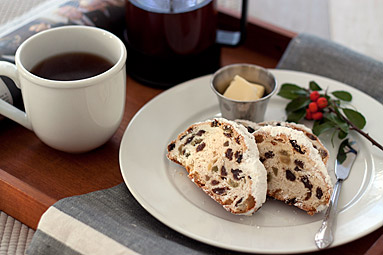 Storing the Stollen
The best way to store stollen is in a cool dark place like a bread box or pantry. Kept this way, our stollen will stay fresh throughout the holiday season.
Serving the Stollen
People enjoy eating stollen in many ways and at many times. Traditionally stollen is sliced and served as is with breakfast, although some people prefer to warm individual slices in a toaster or a microwave.
Over time, the topping on the stollen may become discolored. This is a natural result of the marinated fruit releasing its juices and does not affect the flavor of the stollen. If your stollen has become discolored and you wish to improve the appearance, simply sprinkle a little powdered sugar on top before serving.
Visit our
Frequently Asked Questions page
for more information about storing and serving stollen.