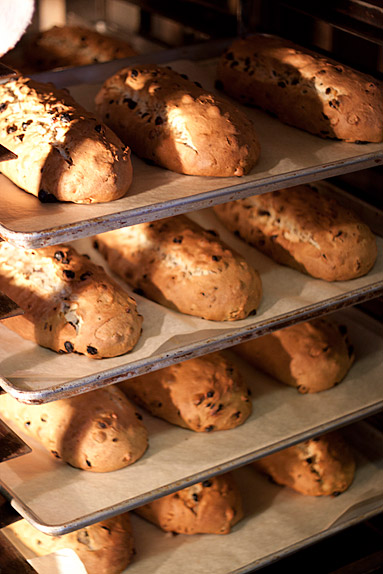 Dresden Stollen Bakers produces only genuine Dresden Stollen. Baked according to a traditional recipe, this all-natural stollen is filled with plump raisins and citron that are soaked overnight in Jamaican Rum before being added to the special yeast dough.
Our bakers then knead and shape each stollen loaf by hand. After rising, the stollen is baked to a golden brown, brushed with butter and topped with sugar to provide the crowning touch. No artificial preservatives are used.
Stollen Ingredients
Our recipe includes the following ingredients:
wheat flour
raisins
butter
citron
milk
sugar
yeast
Jamaican rum
pure vanilla and almond extracts
lemon peel
cardamom
salt
Our Ordering and Baking Process
Dresden Stollen Bakers operates from the beginning of October to the end of December to provide you the best quality stollen. We bake all of our stollen in November so they have time to mature before we deliver them. During this time the flavor of the fruit will soak into the bread and make the stollen more moist and delicious.
To guarantee we bake enough stollen to fill your order, please place your order prior to November 15th. We will bake some extra stollen for late arriving orders, so after November 15th some "orphan" stollen may be available.
Unless specific dates are requested, we will ship the stollen to arrive approximately December 18th. If you would like the stollen for a particular shipment to arrive on a different date, please specify that when ordering. We provide this option as some of our customers enjoy our stollen to eat during the whole month of December.